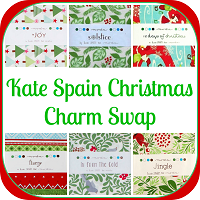 Last month I signed up for this charm swap through Michele at
Crayon Box Quilt Studio
. This is the 3rd swap I've done through Michele and I know that she is so personable and efficient.
I quickly submitted these choices from last year's Solstice line. The first is Embellishment Berry and the second is Impression Snow Laurel.
I sent off for my fabrics from a couple of different sources and cut them up before my big family reunion. I had a few ends from my charm rows.
Oh, the possibilities!
Surprisingly, there are still some slots open in this swap. You can check out the details
here
. Each spot is for 1 yard each of 2 fabrics. I'm excited to get back 112 charms once the swap fills up! What a fun start for a beautiful Christmas quilt!