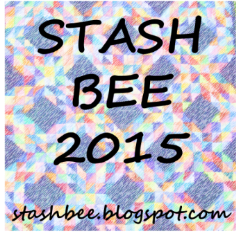 It's sign-up time again!
Anyone out there who is interested, Stash Bee is starting its 3rd round in January.
Sign-ups
started this week. In order to make sure that everyone can post to the blog, our Bee Mama is limiting the number of participants to 99 (that's Blogger's restriction for the number of people who can have permissions to post.) There will be 9 hives of 11 people each ... we make blocks January through November with a break for the holidays.
ANYWAY =) I'm tentatively going to be a Hive Mama again, but I might be a back-up for a new Hive Mama instead. Either way, I'm up for another round of new blocks and techniques in 2015! Here is a round-up of my blocks for this year:
1-3. January Random Bamboo, 4-5. February Polaroid Snapshots, 6-7. March Simply Woven, 8-9. April Fractured Blocks, 10-11. May Road to Tennessee blocks, 12. June Fire Blocks, 13. July Butterfly, 14. August Scrappy Strips, 15. September Flying Geese, 16. October Shattered Chevrons
In January I made 3 because it was my month and I was testing my tutorial directions. (I've had the top finished since March, but haven't done the quilting yet ...) In months I made multiples, it was because they were either less time consuming to piece, the Queen Bee wanted smaller blocks OR they were angel blocks. I have loved the variety that I worked on this year. So many different styles and techniques. For me, October was the most difficult; I just had a dickens of a time seeing how to cut those reverse strips. September was another favorite just because she gave us free reign on what we made as long as the size was met.
Can't wait to see what next year brings!